Special Offers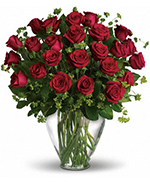 $

189.95
When it comes to romance, the red rose rules! And when it comes to delivering romance in a big way, two dozen gorgeous red roses are a brilliant choice. Twenty-four stunning red roses are arranged with greenery and delivered in a feminine vase. [...]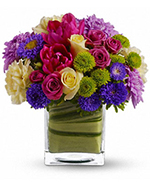 $

74.95
Oh, what a fine day it will be when you have this delightful spring bouquet delivered to someone special. Everyone will delight in the vibrant colors and bountiful blossoms, all thoughtfully arranged in a beautiful leaf-lined vase. Light yellow roses, hot pink spray roses, tulips and gerberas, yello [...]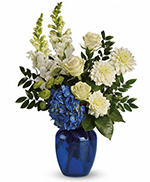 $

79.95
Sending this brilliant blue and white bouquet will surely garner oceans of appreciation from whoever receives it. Dazzling blue hydrangea, green roses and button spray chrysanthemums, divine white dahlias and snapdragons plus huckleberry arrive in a striking cobalt vase. [...]
Have you ever noticed how the beautiful blooms, with their vibrant colors and sweet aroma, refresh the mood, brighten up the day, and add exquisite natural beauty to any place? Well, you should know that they do more than just that. Flowers are nature's decorations, and each flower has its own capability to help humans. Some may bring us joy and peace, while others may delight us with their sweet scent. And then, there are flowers that bring us good luck.
Here, we will share a list of Milwaukee's good luck flowers that you or someone you care for can benefit from.
Recent Products
Azaleas
Azaleas are absolutely stunning. Whether you put them in your office or in your home garden, these flowers will feel luxurious. Azaleas are known to bring good luck and positive feelings as they represent thoughtfulness and symbolize peace and happiness.
Peonies
Peonies represent luck in the form of honor, love, and riches. Who doesn't want all of these blessings? Whether you are wishing good luck to a friend at school or you have an important job interview, a lovely bouquet of these good luck flowers can make a huge difference in how everything pans out.
Lilies
Lilies are not only exquisitely beautiful; they are also one of the most opportune flowers for bringing wealth and opulence. In some cultures, lilies are known to bring good fortune and are often exchanged as gifts to wish good luck. So, if you want someone to have all the luck in the world, lilies are the right choice.
Orchids
Orchids come in different colors and have a calm and delicate appearance. They are very sophisticated and are known to bring good luck as they represent wealth, beauty, and luxury. These elegant flowers are often given as a gift to someone you want the best for. Plus, orchids don't really require too much care and attention to flourish.
Peach Blossoms
If you or someone you know is bad at relationships and romance, perhaps you should give them these flowers. Peach blossoms are known to benefit those who are looking for love as they awaken the romance and give direction to a relationship.
Gardenias
Gardenias have always been symbolized as one of the purest flowers because they represent well wishes in terms of opportunity, joy, and secret love. These lovely blooms will bring you good luck throughout the year and make your life prosperous.
Conclusion
Do you have a new perception about these pretty little colorful things now? These flowers are all around us in Milwaukee, and you see most of them almost every single day. However, their true significance was never known to you. Now that you are aware of their importance, maybe it is time to buy some new flowers and wish a friend or a family member good luck!